Contents:
Shipping Options
International Orders
Shipping Basics
Shipping Charges
We have had several questions regarding the shipping charges that may applied to an order, so I thought that a bit of explanation might be appreciated...
---
Shipping Options
We've investigated all the shipping options available. These options include the US Post Office, UPS, DHL, and FEDEX. Each service offers something different, and each service has its own set of fees and charges.

At this time, the domestic shipping option we recommend is USPS PRIORITY MAIL for either a business or a home address. They offer the best rates, and include tracking and a reasonably low fee structure for insurance. With rare exceptions, packages are delivered in 4 business days or less.

In most cases, domestic shipping via the US POST OFFICE is the least expensive way to ship your order. However, on the rare occasion - usually with larger packages - sometimes you will do better using FEDEX GROUND.

Please note that we reserve the right to select and use the best shipping option for each and every order.


Also note that the MAXIMUM size package that the USPS will ship domestically is one whose [ maximum length + girth ] = 108 inches .

Don't let someone at the Post Office tell you there is a maximum length for domestic Priority Mail packages. There is NO specific length limit for the USPS when shiping domestic packages via the USPS Priority Mail service; the package size limit is as listed above. (This happened to me recently at the main post office in town.)

| | |
| --- | --- |
| Length | Measure the longest edge of the package |
| Girth | Wrap the tape measure around the widest part of the other two dimensions |
| Package Size | Length + Girth |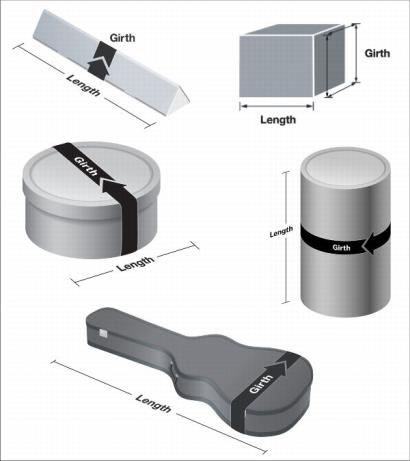 Measuring Parcel Dimensions
Top of Page
International Orders
Having just admired the US POST OFFICE for its value on domestic shipping domestic packages, we hereby shamelessly declare and recommend either the US Post Office USPS Priority Mail International or the USPS Express Mail International option for ALL international orders. This includes APO and FPO addresses. Please note that of these two options, only the USPS International Express Mail option includes a tracking number.

The one thing to remember is that there are size limits when using the USPS Priority Mail International service. BE SURE to check the size of the items you are ordering, add at least 1" to the length and 2" to the girth to account for the packaging, and verify that the final overall size fits under the USPS shipping size limits
.
The USPS has the best international rates of
any
shipping service, and their service provides excellent value. As of May 2013, for a single longsword most shipments to Canada take between 4 and 6 business days and cost between $15 and $25 USD. Shipments to the UK take between 6 and 10 business days and cost between $25 and $35 USD. Shipments to the European mainland require between 8 and 12 business days and cost between $30 and $40 USD; and shipments to Australia generally run from about $40 and go up. For larger packes to Australia we use Consolidated Bulk Shipping in order to minimize the shipping fees; details regarding this service are listed below.
Remember that the USPS has size restrictions on each of their services, and these restrictions can prevent certain items from being shipped.
IMPORTANT:
After accounting for the packages as specified above, please check the USPS website to see if they will be able to ship your order. If your order does not fit within the size restrictions for your country, a shipping service other than the USPS will be required:
USPS Size Limits

At all times you are free to use any shipping service that you deem appropriate, but be warned that the "name" service shipping fees are astronomical, AND there are additional fees and charges that they will add to the shipment when you innocently arrive to pick up your package from them. So unless there is some overwhelming need, stick with the US Post Office if you can do so.
Fortunately, we have a third option for shipping internationally:
Consolidated Bulk Shipping
, or what is called "package forwarding". We use a company called "MyUS.com" for this service. Here is a
list of countries
to which they deliver. MyUS.com shipping costs are about 1/3rd of the named services, but the trade-off for that reduced fee is time: it can take anywhere from 3-7 weeks to get your order with this shipping option.
Because there is no Shipping Calculator for Consolidated Bulk Shipping, if you need to use this option you must email me at
sales@latex-weaponry.com
with your complete name, phone number, shipping address, and the list of items you'd like to order so I can determine the precise cost for the package. Once that has been determined, I'll send you an invoice, and when payment has been received the package will be shipped.
One last point to remember on all non-US orders:
Customs
happens. This means that sometimes the Customs Department of your country will intercept these shipments and impose an
Import Fee
on your order. Whether or not such an event occurs depends entirely on the Will of The Gods on any particular day, and if applied the amount charged depends on your specific country.
IMPORTANT: In almost every case, including Australia, Canada, and Europe, there should be
no customs fees on any order whose total value is less than $1500 USD
.
Top of Page
Shipping Basics
So HOW do we ship your order? I hear you cry....Well, if you are spending the kind of money that you need to in order to purchase these products, it seems to us that you'd probably appreciate having your order arrive safe and sound.

All of our shipments are made in a cardboard box, and the contents of each package are padded such that the product has no chance of damage due to it rolling around loose in the box. Plus, each shipment we send is insured, so even if by some freak occurrence the box gets damaged in transit, your order is guaranteed to be replaced at no additional cost to you.

Our default shipping method for US-based destinations is the UPSP Priority Mail Service, and for international shipments our default preference is USPS Priority International Mail when the order is eligible. Please note that we reserve the right to choose any carrier we deem appropriate for any shipment. This usually means we use the USPS, but we will ocassionally use FEDEX or UPS; sometimes those services can get a package to point A faster and/or way less expensive than the USPS. It's rare, but it does happen.



Shipping Charges
The shopping cart calculates the expected actual cost for each shipment. Usually the shipping calculator does an excellent job on determing the actual cost, but on occasion - and mostly this happens for international orders - the calculated cost exceeds the actual cost of the shipment. Most businesses simply absorb any excess shipping charges that are imposed, but we do not believe that such a policy is acceptable.

When the calculator ends up charging more than the actual cost of the shipment, one we will refund the difference to your credit card or PayPal account. Please note that in most cases the refund issued will be rounded to the next whole $1 increment.

We believe that this is both the honest and the honorable thing to do, and we want to provide the best possible service to our customers along with the best possible product at the lowest possible price - which includes the cost of shipping if it applies to your order.



Top of Page